From The Desk of Principal...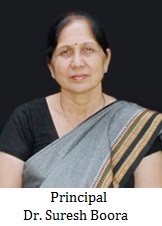 Welcome to Kanya Mahavidyalaya, Kharkhoda. It is one of the largest constituent college of the M.D. University, Rohtak (established in 1993) a multi faculty premier institution with highly qualified academicians imparting education in different fields. Kanya Mahavidyalaya is situated in the rural heart land of Haryana and is conveniently accessible to the girls of the area. It is making an ardent effort for providing quality education in Bachelor's degree in Arts, Commerce and Computer Science & Master's degree in Hindi, Geography, Commerce, P.G. Diploma in Yoga and four Add-on courses to the girls of the region. In the changing economic scenario there is a great demand for such courses.
Whenever one sets out on a journey one is bound to cross milestones and landmarks. But it is no great achievement if the milestones occur merely on account of the journey alone. The real achievements occur only when on each temporal landmark one leaves one's footprint. We can proudly claim that the journey of Kanya Mahavidyalaya has just been such a journey where in each step has marked the conquering newer heights and higher quality of contribution by upholding its exemplary records in academics, sports & cultural activities. Felicitations are due for all noble souls who enthusiastically took initiative and contribution for making this institution the most coveted institution of the area. Their iron determination, will power and undaunted courage have enabled us to make new history. Napoleon rightly said "The word impossible is found in the dictionary of fools".
Our efforts are showing positive results in all fronts. Despite the location of the college, our results are astounding. Our students excel in the field of academics by getting University Merit Positions. They bring laurels in youth festivals, adventure sports, games and N.S.S. every year.
Our College has 30 classrooms, two well quipped labs for psychology, geography and well maintained computer labs which suffice to the needs of the students. Indoor games have also been started in the newly built Indoor Sports Hall.
The college library is quite spacious and is well stocked with books of all genres. Our students show response to new learning and in new books. Moreover, library attendance is mandatory for students.
In the current session, to encourage practical learning skills, the college is introducing U.G.C. approved Job Oriented Courses which will facilitate the students to ensure some viable employment for themselves. Students are the front runners in the university merit list. Heartiest congratulations to those who brought laurels to our college in every field.
At last but not the least, I feel proud to state that Kanya Mahavidyalaya, Kharkhoda is making a big difference in the area of education. It is one of the institutions which imparts quality education and inculcates moral values in their students, which enable them to grow holistically and face the world on equal terms, once they leave the portals of this institution.